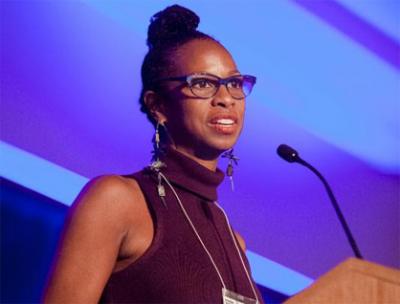 PHILADELPHIA (November 18, 2015) – Jamaican-American nonprofit executive Kwayera Archer Cunningham was honored by the historic National Guild for Community Arts Education in Philadelphia over the weekend.
More than 350 community arts education organizations from across the U.S. gathered for the 78th annual Conference for Community Arts Education at which Archer Cunningham, Founder and President Emerita of the New York-based Ifetayo Cultural Arts Academy, received the 2015 National Service Award.
Archer Cunningham was recognized for her vision and lifelong dedication to youth and family development, community building and social justice; her service to the field; and her commitment to mentoring future arts educators.
Archer Cunningham, who was born in America to Jamaican parents and raised in both Brooklyn and Jamaica, has recently established her consulting practice in Kingston, where she hopes to increase opportunities for the arts to flourish and to work with and inspire grassroots leaders to fulfill the region's potential to become truly independent, collaborative and sustainable.
She is currently President of Global Ase, an international nonprofit organization that promotes social transformation initiatives by creating strong relationships between people who want to help and those who need help.
"It's an honor to be recognized by such an historic organization," said Archer Cunningham, who served as Ifetayo's Executive Director for 25 years.
In her acceptance speech, she paid tribute to her rich Jamaican roots and heritage – "the legacy of Bob Marley, Marcus Garvey, Usain Bolt – a legacy of the best of the best."
Even so, she was saddened that her home country appears to be floundering in some respects. "(What we see is) the struggle of a lush land with the environment to grow everything that is needed, but a record of importing lesser quality produce saturating the markets and our options… a non-profit sector operating with a great deal of nepotism, a legislative process fraught with corruption… a region celebrating independence and liberation every year, but still so nestled in the oppressive ways of their former colonizers."
The latter underscores Archer Cunningham's current commitment to return to Jamaica and the Caribbean to increase the level of excellence of philanthropy through integrating philanthropic activity and building organizational capacity.
Archer Cunningham, a dynamic nonprofit executive who believes passionately in sustainable philanthropy and social transformation through the use of culturally-based values, has raised more than US $40 million in support of U.S. programs, capacity building efforts and operations. She has also been instrumental in training other leaders seeking to improve their own nonprofit organizations.
At the conference, Lily Yeh, Founder of Village of Arts and Humanities/Barefoot Artists, received the 2015 National Leadership Award in recognition of her groundbreaking work as an artist, educator and community leader in the United States.